Editor Profiles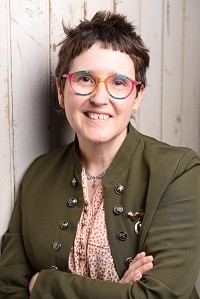 ​​​​​​​Alison's scientific background is in biomedical sciences and bioinformatics. She read for a degree in Biomedical Sciences at the University of Durham, UK. Having become interested in the then new field of bioinformatics, she then decided to do a Masters in Information Technology at Teesside University, UK. She went on to study at the University of Reading, UK completing a bioinformatics-based PhD on investigating the effects of mutations on the structure of p53, before working for a time in academia, including 8 years as the curator of the CATH protein classification database. After eventually deciding to pursue a career in scientific publishing, she joined BioMed Central in 2014, initially as a Database Editor for the ISRCTN clinical trial registry. Alison joined the BMC series in 2016 and became the Editor for BMC Medical Informatics and Decision Making in 2019. Alison is also a editor for the BMC-series blog and is based in Berlin.
Anna joined BMC in 2019 and is the Manuscript Editor for BMC Medical Informatics and Decision Making since April 2019.
Eleanor joined BMC in 2018 and is the Assistant Editor for BMC Medical Informatics and Decision Making since November 2018.
Clinical decision-making, knowledge support systems, and theory
Paul Taylor is a Reader at UCL's Institute of Health Informatics and part of the UK's Farr Institute which aims to enhance our capacity to use routinely collected data in research. He holds a BSc in Psychology and MSc in Artificial Intelligence and a PhD Medical Physics from UCL. His research interests have focussed on the use of computer systems in clinical decisions, particularly in image interpretation including mammography and chest radiography. He was a co-investigator on a recent HTA project evaluating commercial tools for the automated analysis of diabetic retinopathy images. He is currently leading a major collaborative project to create a resource of routinely collected ophthalmic data, including imaging, to answer a range of questions relating to the progression of disease and effectiveness of treatment for common retinal conditions. He is the author of 'From Patient Data to Medical Knowledge', a textbook for health informatics and writes about data and technology in health care for publications including the London Review of Books.
eHealth / teleHealth / mobile health systems
Lisette is full professor Persuasive Health Technology at the University of Twente and has appointments as senior researcher at the University Medical Center Groningen and adjunct professor at the University of Waterloo (Canada). Lisette founded and coordinates the Center for eHealth & Wellbeing Research at the University of Twente, and the lab Persuasive Health Technology which captures the projects & products of her research (group). She is the chair of the Health Research Domain of the faculty of Behavioral, Management and Social sciences at the University of Twente. As full professor Persuasive Health Technology she coordinates the Health Research Domain from Technical Medicine Centre of the University of Twente. She has a long-term expertise in the area of persuasive & personalized coaching using empathic monitoring technologies and in the establishment of a smart European knowledge infrastructure via innovative Life Long Learning systems for design and implementation of eLearning-concepts in HealthCare (blended care; virtual reality) and in Education (eHealth MOOC, massive online Instructional technology & eHealth Theory and Evaluation methods). Lisette is the editor of the book 'eHealth Research, Theory and Development, a multidisciplinary approach, a textbook for eHealth students and professionals. Lisette has served as Section Editor at BMC Medical Informatics and Decision Making since September 2018.
Healthcare Information Systems
Dr. Payne is the founding Director of the Institute for Informatics (I2) at Washington University in St. Louis, where he also serves as the Robert J. Terry Professor in the School of Medicine. Previously, he was Professor and Chair of the Department of Biomedical Informatics at The Ohio State University. He received his PhD with distinction in Biomedical Informatics from Columbia University and he is an internationally recognized leader in the field of clinical research informatics (CRI) and translational bioinformatics (TBI). Dr. Payne is the author of over 190 publications focusing on the intersection of biomedical informatics and the clinical and translational science domains, including several seminal reports that have served to define a new sub-domain of biomedical informatics theory and practice specifically focusing upon clinical research applications. He has served as a Section Editor at BMC Medical Informatics and Decision Making since 2016.
Standards, technology, machine learning, and modeling
Andreas is lead of the Holzinger Group, HCI-KDD, Institute for Medical Informatics/Statistics, Medical University Graz, and Associate Professor at the Faculty of Computer Science and Biomedical Engineering of Graz University of Technology. Currently, Andreas is Visiting Professor for Machine Learning in Health Informatics at the Faculty of Informatics at Vienna University of Technology. He serves as a consultant for the Canadian, Dutch, French, Swiss, UK, and US Governments, for the German Excellence Initiative and as national expert in the European Commission. He obtained a PhD in Cognitive Science from Graz University in 1998 and a second PhD in Computer Science from Graz University of Technology in 2003. He founded the Expert Network HCI-KDD to foster collaboration and research in two areas that offer ideal conditions towards understanding intelligence: Human-Computer Interaction (HCI) and Knowledge Discovery/Data Mining (KDD). He has served as a Section Editor at BMC Medical Informatics and Decision Making since April 2016.
Follow